People owning small businesses should consider implementing a video marketing approach. This type of advertising is favored by customers and has been shown to increase sales and brand identification.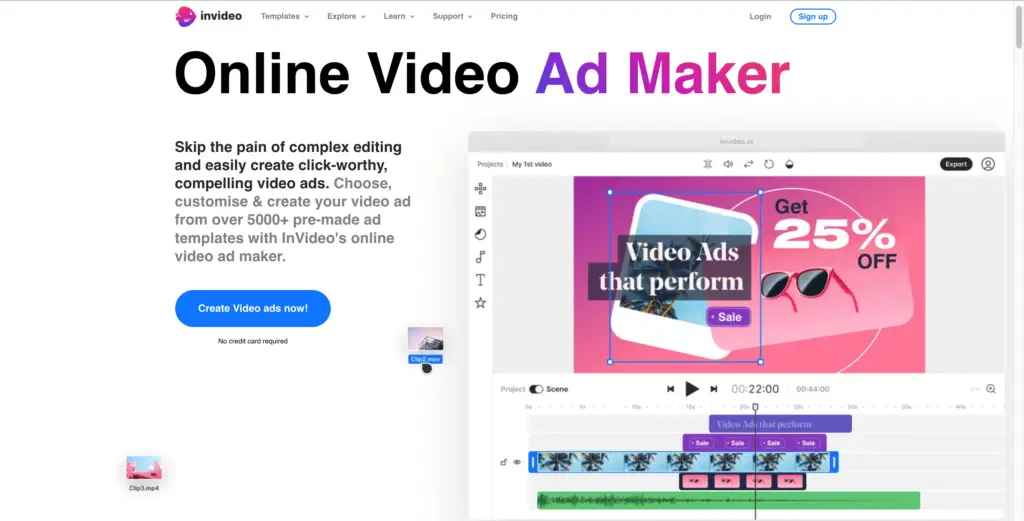 That's why promoting your small business using a high-quality video is crucial. You can use a Free ad maker online to make compelling video ads for your small business.
Most consumers would prefer watching a short video about your business over reading a wall of text, but this depends on the people you're targeting. 
Creating an online video ad is an excellent way for your small business to participate in the rising tide of digital video advertising.
It's easy to increase brand awareness and drive sales with the help of an educational online video advertisement. You can do this in various places, including your website, Facebook, YouTube, e-newsletter, etc.
How to Make an Effective Video Ad?
Here are six guidelines to follow when make an ad online for your small business to be used online.
1. Focus on the initial portion of the video.
It would help if you made a good impression right away with the introduction of your video. You need to grab people's attention immediately if you don't want them to skip your ad or click away.
Your video ad's opening remark should be designed to grab the attention of your target demographic. Strive to capture the attention of your target market in the very first few seconds by providing an answer to a frequently asked question, posing an intriguing challenge, or revealing a unique selling point.
You may have noticed that some video ads play without sound; in these cases, it is essential to grab the viewer's attention with striking graphics.
2. Draw attention to your company's best features.
If you're making a video ad, this is a question you need to answer by highlighting the qualities that set your business apart. Explain to the public your product or service is unique and distinct from the competition. Show off your accomplishments. 
Exhibit your past accomplishments. Include good comments and feedback from customers if you like. Your video advertisement will be more successful if you emphasize the advantages of working with your organization.
 3. Video Ad Timing
Making your marketing sound like a documentary is not a good idea. Most online video advertisements are under 30 seconds in length. When writing the video's screenplay, keep this optimum length in mind.
However, longer videos can also be helpful if you're trying to use them to position your brand. For instance, a lengthier video might be more appropriate to provide a more in-depth story about your brand that involves an interview with a client or an employee.
You must get to the point quickly and eliminate fluff to keep people interested.
4. Tell Viewers Why
The purpose of your video should be to urge people to buy your product. Offering a low price, an extended guarantee, or patented technology that results in a one-of-a-kind product are great ways to sway potential customers in your favor. Remember this when conceptualizing and shooting your internet video ad.
 5. Use a Call to Action
Every ad is meant to get people to do something. Your ad should not be any different. You can either film the call to action (CTA) or add it with graphics and text.
The best place for the CTA is at the end of the video. For example, you can show how people can get more information from your website, sign up for a discount, or buy your products and services.
6. Funny Ad Video
A well-executed joke can catalyze a video's rapid popularity rise. However, depending on the circumstances, this might be an excellent or devastating plan. You should consider integrating comedy if doing so feels natural and is consistent with your message and goals. You don't want your brand to become a punchline, so don't force it if it doesn't feel right.
How to Make a Good Video Ad?
How to get people to react to your video ad is something you should know now.
Are you creating a video ad for your small business online? Here are some additional things to keep in mind.
An effective video ad will draw attention to a problem and demonstrate how the advertised brand will provide a solution to the audience.
Video content creation, like any medium, requires careful planning. You shouldn't just wing it! Ensure your video advertisement script covers all bases by including the above information. After that, have those familiar with your brand and friends and relatives look it over. It's crucial to get input to make the required changes.
After your video advertisement has been shot and edited, it needs to be published on a reliable site. Problems with your video host should be avoided at all costs. Today, the most well-known and dependable platforms for sharing videos online are YouTube, Vimeo, and Facebook. All three methods can be used to broaden your video's exposure.
Commercials are a normal part of the online experience, and viewers know how to ignore them. Pick a format or design that stands out from the crowd and helps your brand gain exposure among its core audience. More so than with any other type of material, your video will stand out from the crowd if you put some thought into its production.
Also Read
Wrapping Up
Videos have the potential to quickly gain traction and become your number one sales driver with the assistance of the tactics stated above, as well as a little bit of luck. A free ad maker online is the best option for the growth of a small business.