In this pandemic time every company, college, and marketing agency conducting webinars these days. Managing live webinars is not an easy task but with the webinar software, we can conduct and managing live webinars easily.
I am sure all people facing the same issue when hosting and attending live webinars like poor net connection, forget to click on the record webinar button, connection break, bad sound quality, etc.
More and more people working from home in the pandemic time, so we need the right webinar software to connect with the colleague and clients.
In this article, we review the world's best webinar software based on price, ease to use, integration with other applications, and automation.
But before we start first, we discuss what Webinar is?
What is the Webinar?
The webinar is the same as the seminar but it conducts online over the Internet. Webinar words emerge from two words (Web+Seminar = Webinar). In Webinar, we conduct online classes, meetings, Live Video conference.
How Webinar Software help to conduct a live webinar?
Conducting webinars is not easy. We need some online software to run or conducting webinars and this software helps to manage webinar like track video records, managing audiences, save all records in the database, Surveys and Polls, All this function is automated, you do have some setting when you conduct webinar and that's it.
Here Are Some Best Webinar software lists.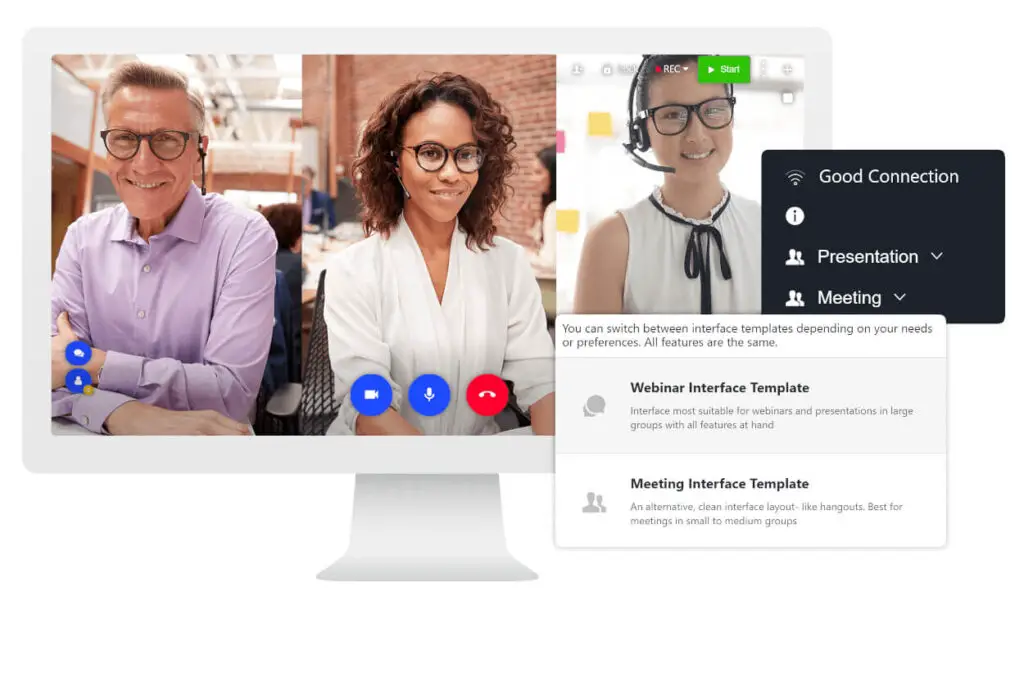 Are you "entrepreneurs or a Marketer"? Then you definitely love LiveWebinar. LiveWebinar is a cloud-based webinar software and mostly popular among business leaders and entrepreneurs. LiveWebinar has almost all the features like screen sharing, live video streaming, and recording features, plus customized branding, social media broadcasting, and audience engagement analytics.
Their are some highlight points
HD Recorder – Record and share your webinars in HD.
Whiteboard – You can use a virtual whiteboard while you conduct a webinar to explain your thoughts more visually.
Live Streaming – Share your webinar to social media.
Phone Bridge – Call in and out to your webinar with toll-free numbers.
Marketing automation – You can integrate with multiple marketing automation tools like Mailchimp, Constant Contact, Zapier, AWeber, HubSpot and more.
Works with any device – Contact webinar from PCs, Smart TVs and Mobile devices.
Full Customization – Full Customization according to your business needs with custom domain. You can also use their advanced API integration.
Statistics and Reports – Built-in advanced reports, analyses and tracking so you can track how your webinar works.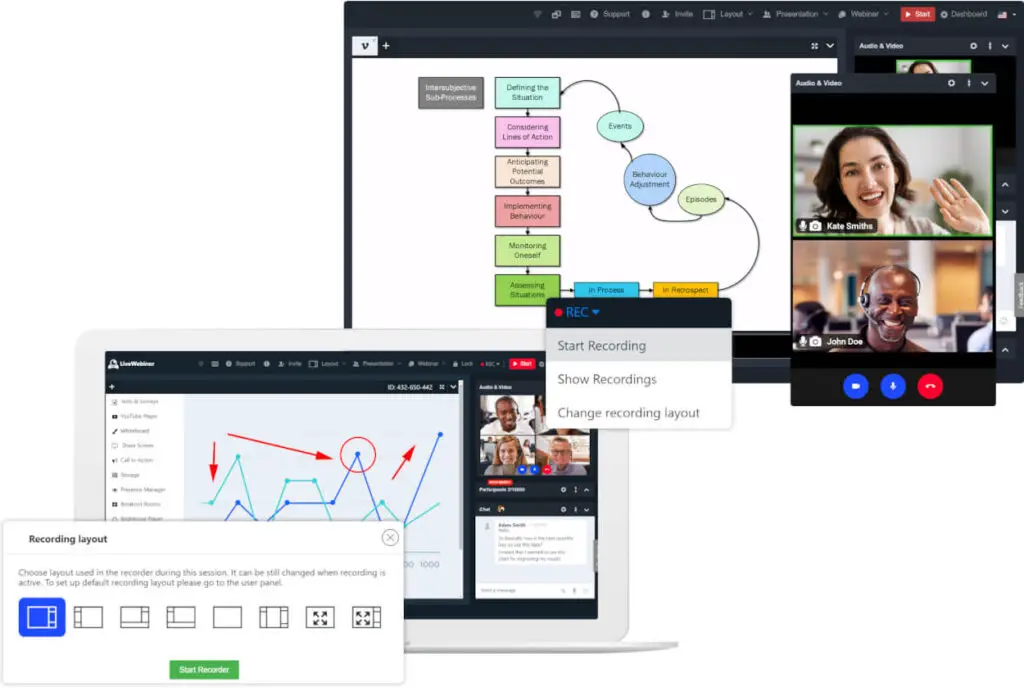 Pricing Plan
Free Plan: In a free plan you can host a webinar with 5 attendees with 2 hours of recordings, Screen Sharing. You can also conduct Polls and Surveys with Marketing Automation. Great for a small team.
Pro Plan: In Pro Plan you conduct a webinar with upto 100 audiences with 6 hours of recordings for $14.99 per month, but if you buy annually the price goes down to 20% that is $11.99 per month.
Business Plan: In Business Plan you conduct webinars with 500 audiences with 8 hours of full HD recordings for $119 per month (annually pay $95.20 per month).
Custom Plan: Choose features, capacity and customize according to your needs.
You have to check out their Free Plan
Demio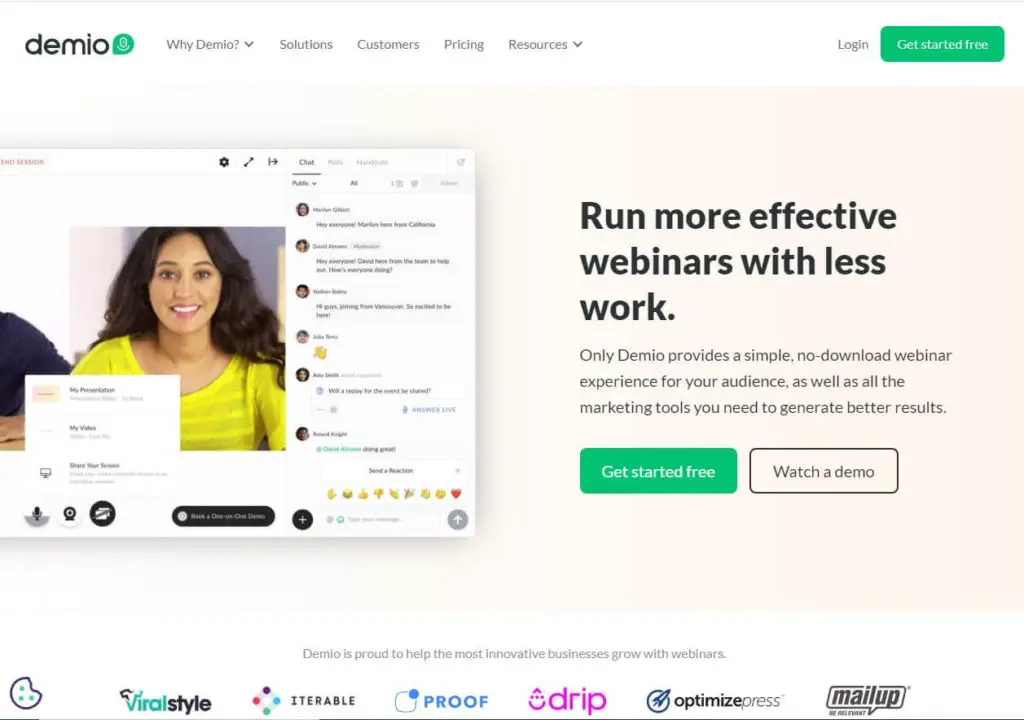 If you are a "marketer" then Demio is the right choice, because this platform builds for digital marketing. Demio have all tools which need a digital marketer to generate leads like a Landing Page, Registration Page, HD Video Streaming, Surveys and Polls, automated Webinar, etc.
There are some highlight points
All the Webinars automated and hosted on Cloud.
Integrated with Email marketing Software like Mail champ, Drip, Convertkit, and many other email marketing Software.
In builds Polls, Surveys and Chats.
In a live Webinar, you can share videos, slides images.
Store your Live Webinar and automate to use this video in your other webinar.
Built-in analytics and insights so you can track how your webinar works.
Pricing and Plan
Demio has three pricing plans, it also has 2 weeks of trials with all features. So you can sign up for their trial plans and check out how Demio works before you buy.
Their Pricing Plan
Starter Plan: In Starter Plan you conduct a webinar with 50 audiences for $49 per month, but if you buy annually price goes down to 30% that is %39 per month.
Growth Plan: In Growth Plan you conduct webinars with 150 audiences for $99 per month (annually pay $69 per month).
Business Plan: In Business Plan you conduct webinars with 500 audiences for $234 per month (annually Pay $163 per month).
You have to check out their trials plan
Livestorm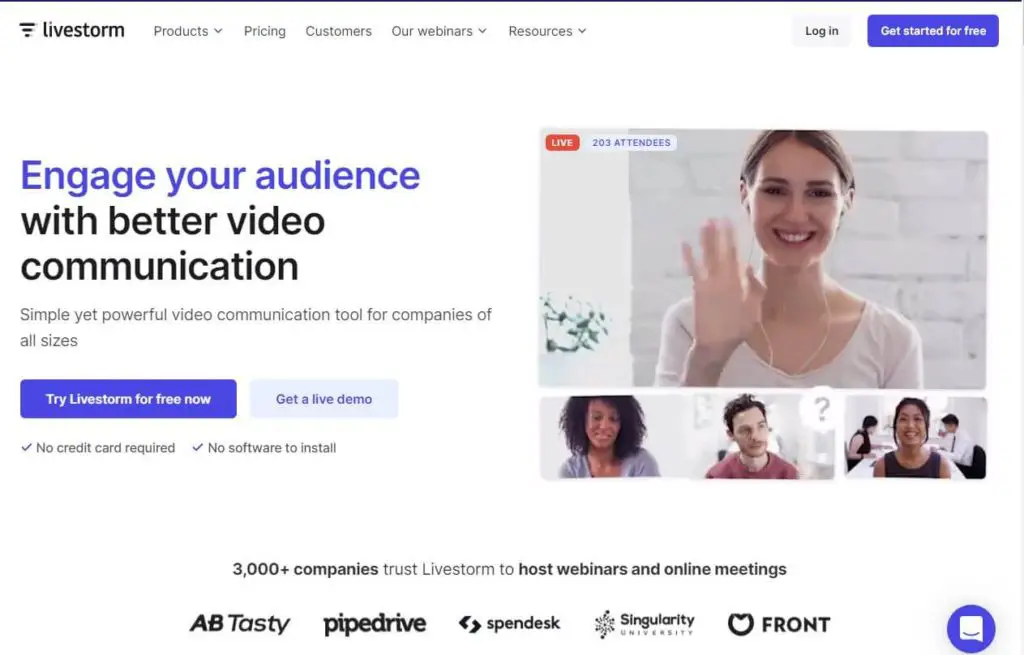 Livestorm is great when you organize events like product launching and demos, sell online courses, sell products. You can conduct live, Hybrid, and automated webinars in Livestorm. Best for online courses where you have to teach students in online classes.
You can use their in-built email marketing tool to send promotional emails to your audience to generate sales leads.
There are some highlight points
Easy to set up and easy to use.
Inbuilt email marketing.
Unlimited store video recording.
Export your data to CSV and XLS file format.
Connect your Livestorm to Zapier.
Detail analytics.
Automate Webinar.
Built-in Chats, Polls, and Surveys.
Pricing and Plans
Livestorm has three plans, with the starter plane is free. So you can sign up for their free plans and check out how livestorm works before you upgrade to a premium plan.
Their Pricing Plan
Free Plan: In the free Plan, you conduct webinar unlimited webinar and video meetings.
Premium Plan: You have to charge $99/host with 4 hours limit per webinar.
Enterprise Plan: In this plan doesn't have defined billed you to have a charge according to your needs.
You have to check out their free plan
Webinar Ninja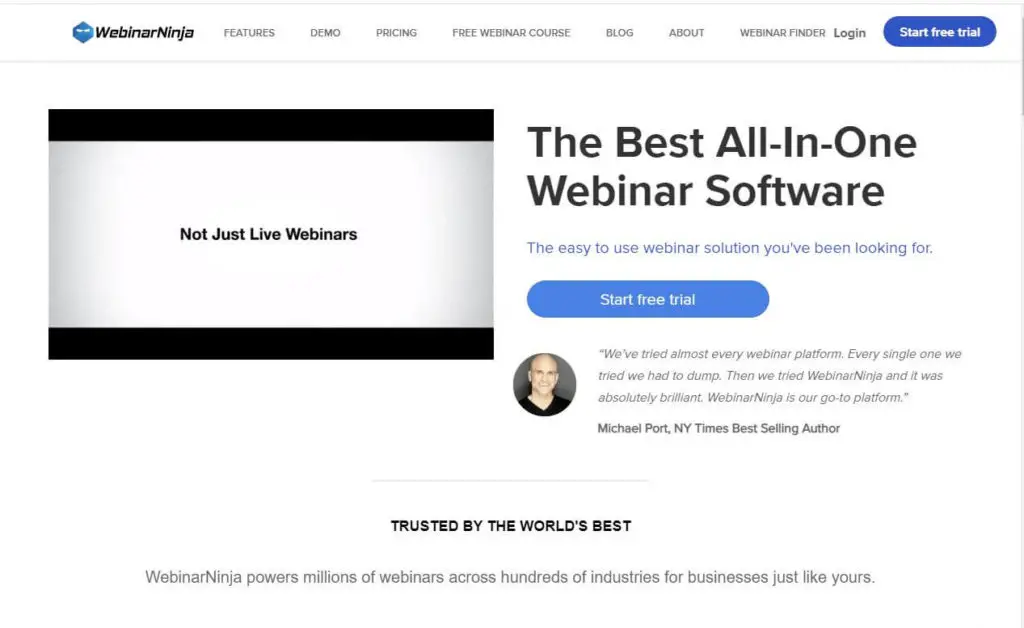 Webinar Ninja is one of the best all in one and easiest webinar software on this list. You can create and conduct a webinar in a couple of minutes. Trusted by big brands Name as AppSumo and many more.
In Webinar Ninja, we can create four types of webinars. Automated, Hybrid, Live, and Series.
Automated: Automated webinar is a that webinar runs scheduled time or on-demand times.
Hybrid Webinar: Combination of recorded and live videos.
Live Webinar: Live webinars are live broadcasts in which we interacted live with our audiences.  
Series Webinar: Series or group of the webinar.
Some highlight points
Instant screen sharing.
Conduct Polls after and before the webinar.
Insight and analytic dashboard.
Export your data.
Integrate with Zapier.
Pricing Plan
Webinar Ninja has four plans, which include a free 2-week trial plan. So you can sign up for their trial plans and check out how Webinar Ninja works before you buy their paid plan.
Starter Plan is $39/month, users that only require 100 audiences.
Pro Plan is $79/month and adds another 200 audiences. You have also conducted a series of webinars.
Plus Plan at $129/month and last Power Plan at $199/month with more advanced features.
Webinar Jam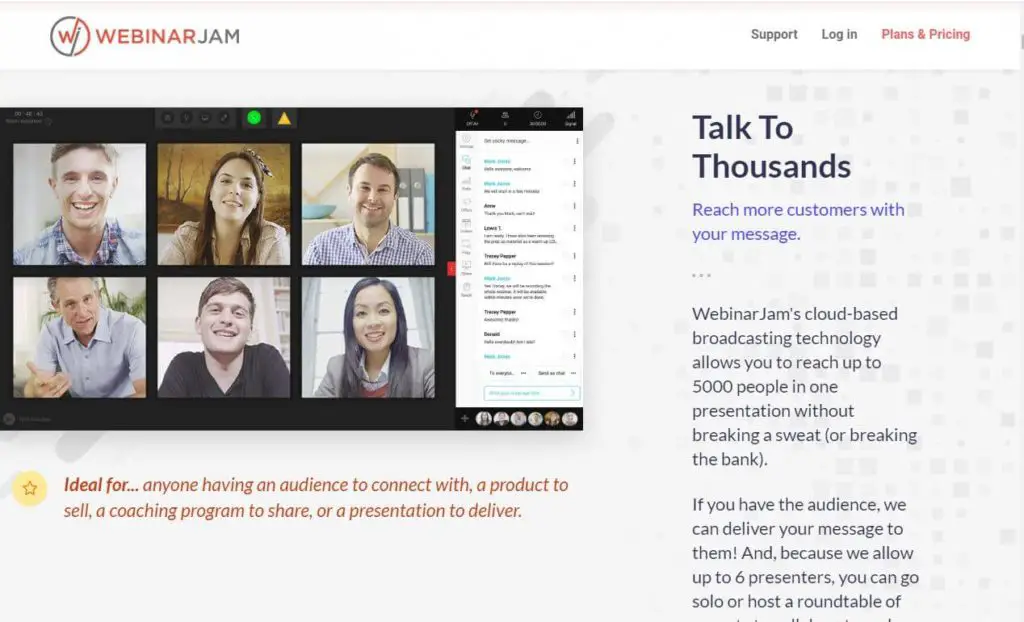 Webinar Jam is another highly recommended webinar platform. Mostly their webinars focused to sell, but you can for any purpose.
If you have a large audience base then Webinar Jam is the right choice because their software has the ability to reach up to 5,000 people.
It works on all devices desktop, phone, tablet, etc. so you and your audiences join webinars in any place, right from their smartphone.
Some Highlight Points
Live Chat, Polls, and Surveys.
Automated Recording and scheduling
Inbuilt e-mail and SMS feature
Paid Webinar
Registration Page Builder, Drawing Board, and A/B testing.
Video Injection during the webinar.
Attendee Spotlight.
Pricing Plan
Basic Plan: $499/year or $41.58/month. In this plan, you connect with 500 participants per webinar, up to 3 presenters, and 24/7 support.
Professional Plan: $699/year or $58.25/month. Participants increase to 1,000, and presenters go up to 4.
Premium Plan: $999/year or $83.25/month). Features up to 6 presenters and a webinar audience of up to 5,000.
Easy Webinar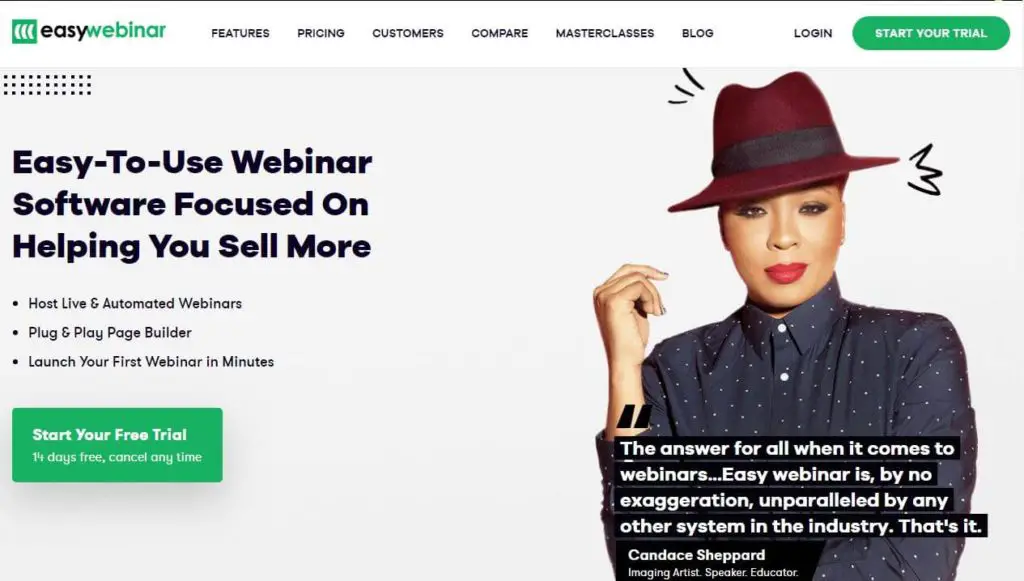 Easy Webinar is mainly focused on helping you to more sales. It has tons of features like connect easy webinars to email marketing like Mail Champ and Drip and shopping cart.
Some Highlight Points
Interactive live chat and Screen-sharing options.
Unlimited live viewers using YouTube Live Integration.
HD Videos and a mobile app available.
WordPress integration.
Connect with popular email tools like MailChimp, Drip, etc.
In-built analytics dashboard.
Pricing and Plan
First, and the Standard plan costs $59 per month, which is billed annually at $708; the Pro plan is $90 per month, and the Enterprise plan is $349 per month. If you have large audiences, then you can get in touch with them for quote-based pricing.
Also read